WHAT IS SLICKTHANE?

SlickThane is a high solids, polyurethane-acrylic blend, single component, ambient or heat cure, zero to low VOC, waterborne coating for interior and exterior surfaces, wood, metals, concrete, plastics and vinyl. Great for wood and concrete floors. MIL SPEC CARC coating.

ADVANTAGES

Zero to Low VOC's, waterborne


Will Not Attack Other Coatings and Primers


Soap and Water Clean Up


FDA rated, Acoustical and Antistatic upon request.


Flexible or very hard.
APPLICATION
Application is by brush, roller, spray, or dip. Cure time is 2-24 hours. It can be applied to wood, plastic-composite, sail cloth, canvas, and metals and concrete. The cured surface can be hard or flexible. It can be formulated to Acoustical, Antistatic and FDA rated products. Outstanding for flexographic printing and back painting for glass.
PACKAGING
Available in quarts, gallons, pails, drums. Available in clear and we will match all paint manufacturers. Custom colors and COOLCOLORS, solar reflective colors are available
MIL-Spec, FED-STD- 595 standards

APPLICATIONS

Apply to any substrate including plastic, glass and vinyl. DTM.


Marine
- New Sails
- Renew Old Sails
- Woodwork


Cleanroom, antistatic.


Commercial, Flooring


Industrial, sound proofing,


Concrete sealant, Anti-graffiti


FDA rated


MIL SPEC, CARC coating. FED-STD-595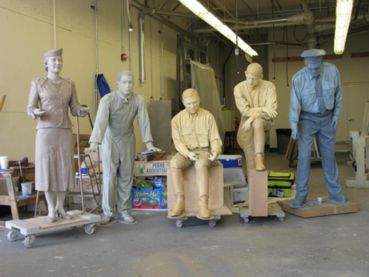 Mannequins coated with custom colored Slickthane at the Smithsonian Institute.
PROPERTIES
Appearance
Non - Pigmented
Opaque when wet, Clear when dry
Solids
>40%
Viscosity, cps
>50 - 250
pH
7.8 - 8.5
Density, lb/gal
8 - 9
VOC's lb/gal
ZERO to1.35 - 1.55 depending on pigments added
Particle Charge
anionic
Tensile Strength, psi
3800-4000
Elongation, % custom
30-300
Gel Time @ 70F
30 min.
Full Cure @ 70F
24 hrs.
Coverage Ft2/Gallon
350, acoustical product will be less
HANDLING
Please Refer to the MSDS, available by request..
SHIPPING
No restrictions.
STORAGE

Do not freeze. May be kept in sealed containers for 12 months.
*NOTE TO CONSUMERS:

When using SlickThane to paint vinyl siding, care should be taken to avoid painting the siding too much darker than the original color to avoid warping of the vinyl panels. COOLCOLORS, solar reflective colors are available. FED-STD-595